Dịch vụ kiểm tra ABB MACHsense-P cho động cơ
"ABB MACHsense continuously monitors key parameters related to the condition of the cage rotor, bearings of motors and generators, and it can also address temperature issues. . "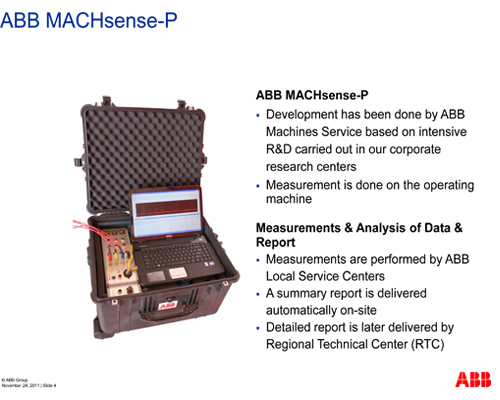 Benefits's customers from ABB MACHsense-P:
Motors and generators are constantly monitored while they are running :
Multi-channel operation and fast data collection rates increase sensitivity and accuracy .
On-board data processing within data analysis unit reduces volume of data transmitted to server for lower communication costs – communication can use mobile phone network or internet .
ABB's dedicated software customizes analysis to motor or generator design for higher precision .
Model based analysis reliably identifies defects and their severity
Customers can receive regular condition reports on motors and generators, authorized users can log on to server to access real-time information
ABB MACHsense-P report:
Overal report will be sent to customer after getting data from site
Detail report will show:
– Defect rotor (squirrel motor)
– Voltage quality (high voltage motor start by DOL method)
– Bearing
– Flatform motor
Early warning of problems helps reduce unplanned downtime .
Solution and time will be suggested.
Data processing:
Perform by ABB engineer.
Customer support one more engineer to get data and action in electric panel .
Show to ABB about customer's procedure at site.
Time for get data is about 02 hours per one motor.
>